This Keratin Revitalizing Cream Rejuvenate Hair is an intensive hair treatment that nourishes and strengthens the hair from root to tip. It is enriched with keratin, which helps to give your hair a glossy, healthy look. The cream also contains natural oils and vitamins that help to improve the overall health of the hair. This cream is suitable for all hair types and helps to reduce split ends, frizz, and breakage.
Key Features
Moisturizing and Nourishing: This cream helps to moisturize and nourish hair, leaving it soft and smooth.
Refreshing Herbal Fragrance: The cream is infused with a refreshing herbal fragrance that leaves hair smelling great.
Contains Keratin: This cream contains keratin, a protein that helps to strengthen and protect hair from damage. Keratin helps to restore damaged hair and helps to improve the overall texture and appearance of hair.
Smooth and Silky: This cream leaves hair feeling smooth and silky. It also helps to reduce frizz and flyaway, leaving hair looking and feeling healthier.
Specification
Size: 300ml
Ingredients: Natural Keratin, Herbal Fragrance, Nourishing Hair Oils
Function:nouridhing and strengthen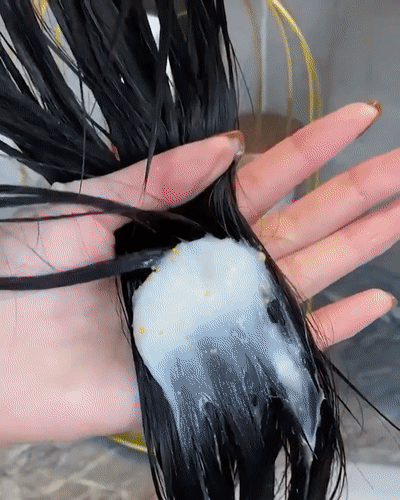 Package Includes
1* Keratin Revitalizing Cream Rejuvenate Hair
Instructions For Use:
Step1: Apply a small amount of the cream to clean, damp hair.
Step2: Massage the cream into the scalp and hair, starting from the roots to the tips.
Step3: Leave the cream in for 5-10 minutes before rinsing out with warm water.
Notes
Please Use it after the test to avoid allergies