Tired of bulky water bottles taking up too much space in your homes and when you go outdoors?
Our collapsible water storage cubes are a foldable, portable & lightweight containers to help you be prepared for lifes fun adventures, as well as life-threatening situations.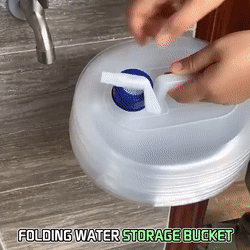 They come in 5 sizes (3L/5L/8L/10L/15L) and enable you to quickly & conveniently be ready to store, transport & dispense all the water you need, without taking up much space before you need it.
Product Description
Food Grade Material
This collapsible bucket is made of food grade TPU and has no odor. It is transparent to be always aware of water level. Super durable for lasting years without easily damaged or crackled.
Collapsible & Portable & Reusable
The bucket is collapsible, space-saving and compact which makes it convenient storing or transporting. It is lightweight and portable to be pack in your backpack or car. Keep dry for multiple reuse.
Adjustable Faucet Output
The water outlet can adjust the water volume, which is very convenient to use. The use temperature is -20℃ to 80℃. It remains soft and flexible without deformation after storing cold and warm water.
Outdoor Use and Emergency Preparedness
The collapsible bucket is perfect for outdoor activities such as backpacking, camping, hiking, mountaineering, hunting and everyday use.
At the same time, it can also be used as emergency water for automobiles and a quick water storage tool in disasters. This is the most important emergency preparation in your survival kit!
Specifications
Product color: transparent gray
Product capacity: 3L 5L 8L 10L 15L
Finished product size: see picture
Product material: food grade TPU
Straw size: about 1cm
Product features: small storage, healthy material, safe and convenient
Scope of application: cycling, hiking, hiking, outdoor camping
Packaging includes
Notes
Applicable temperature is from minus 20 degrees to zero above 80 degrees