Experience futuristic sound quality with the USB magnetic levitation Bluetooth speaker – Astronaut Edition! This multifunctional speaker integrats a speaker, lamp, and wireless charger.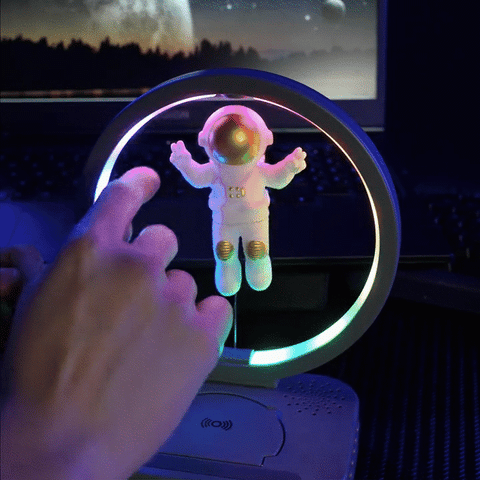 Levitation Bluetooth Speaker
With unique appearance and innovative design, this 3 in 1 Bluetooth speaker uses magnetic levitation technology, the astronaut is suspended in the air, constantly floating and rotating.
HD Stereo Sound
Subwoofer and mixed stereo create a live-level listening experience, as if you're at a concert. The upgraded 40mm rubidium magnet horn delivers strong and low voice, bringing rich sound details.
Flashing LED
The LED ambient light has a variety of lighting modes to provide a real audio-visual feast. The brightness of the lamp can be infinitely adjusted to meet your lighting requirements in any scene.
Fast Charger
Charge efficiently and fast with just gently put the phone. With a fast wireless charger and mobile phone support, you can use this lamp in any place where you need to charge your mobile phone.
Long Playing Time
With a built-in 1500mAH rechargeable battery, the speaker can play music continuously for a long time. It can be used outdoors as a standalone speaker. ABS material protects the speaker from impact.
Designed for Convenience
Bluetooth wireless 5.0 can be quickly and instantly paired, and it supports all Bluetooth devices such as iPads and tablets. The integrated bedside Lamp saves a lot of space on the desktop.
Ideal Gift
This cool magnetic levitation speaker is an ideal gift for your lover, friends, kids and etc. It can also be a tech gadget for desktop decoration, office decoration, bedroom decoration…